LEX Africa Annual General Meeting in Luanda, Angola 
6-5-2023
From April 28 to 30, 2023, I was delighted to represent IPG at the LEX Africa Annual General Meeting that took place in Luanda, Angola.
LEX Africa is a legal Alliance of leading African law firms for the propose of advising local and international clients on their trade, business, investment and other activities in Africa.
IPG and LEX Africa signed a memorandum of understanding in January 2020 with the aim of developing and strengthening their relationship. Since then, the two professional associations have increased their co-operation for mutual benefit enabling members to work together on international client matters, share information of interest to members and their clients and attend each other's conferences.
LEX Africa is the first and largest African legal Alliance with a Pan African Legal team of more than 700 lawyers (30 countries).


It was a great experience to attend the conference and to share ideas with so many enthusiastic professionals who have not only a local but a worldwide vision of business opportunities. They are motivated to co-operate with IPG members in other jurisdictions.
It is great to see the energy that those talented young lawyers put into their day-to-day work to assist and advise clients in Africa.
During the conference at the Intercontinental Luanda Miramar an internationally branded 5-star hotel, I listened to very interesting presentations and useful discussions: i) The impact of reforming financial regulatory measures on investment incentives, currency stability and economic development; ii) The importance of stringent environmental, social and governance requirements - why ESG underpins sustainability for Africa's investment prospects; iii) Doing Business in Oil & Gas in Africa; iv) Effective dispute resolution practice and the benefit to foreign direct investment. The keynote speakers always involved the LEX Africa members to allow an inside and outside approach.
Angola, with its natural wealth, oil resources and diamonds, attracts thousands of business travelers and expatriates every year and its economy is among the fastest-growing in the world – but economic growth is highly uneven.
It was also a privilege listening to a panel of high-level business influencers and members of very important institutions and companies with a worldwide outlook and how things can be changed in the future.
The format of the conference is very similar to the one of IPG, so I also had the opportunity to socialize and enjoy informal chats with the members in a very relaxed atmosphere, as one can see on the photos.



Many thanks to the Board of Directors of IPG for giving me the opportunity to represent our association on that occasion, and to Elke for all her support before and during my stay in Angola. It was a great discovery, honor, and a privilege to me.
I truly recommend and encourage fostering the relationship between IPG and LEX Africa members for mutual benefits.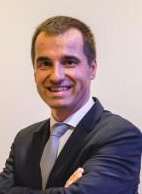 Pedro Bastos
Oliveira Rego & Associados, SROC, Lda
Av. Praia da Vitória 73 – 2º Esq.
1050-183 Lisbon
Portugal
Website
T +351 213 152 672
pedrobastos@oliveirarego.pt